I received a sampler box of Newman's Own Organics for the purpose of this review, however, my thoughts are my own.
About Newman's Own Organics
Newman's Own Organics (a division of Newman's Own) started in 1993 by Nell Newman and her business partner Peter Meehan.  They originally started with organic pretzels, and went on to a multitude of items such as coffee, tea, olive oil, balsamic vinegar, organic dried fruit, and even pet food!  It was Ne'll's father's , "Pa" Newman, love for pretzels that made them a perfect first choice for their company launch.  Their pretzel line has since increased to ten varieties.
Nell also loved chocolate and decided chocolate would be a great choice to add to their organic line.  Their chocolate carries the USDA Organic and RainForest Alliance Certified Seals on both their bars and cups.  Soon after they were adding delicious cookies to their line of already delicious products!
The Newman's have always been big on donating to charity.  Since 1982, they have given over $300 million to education and charity organizations.
My Thoughts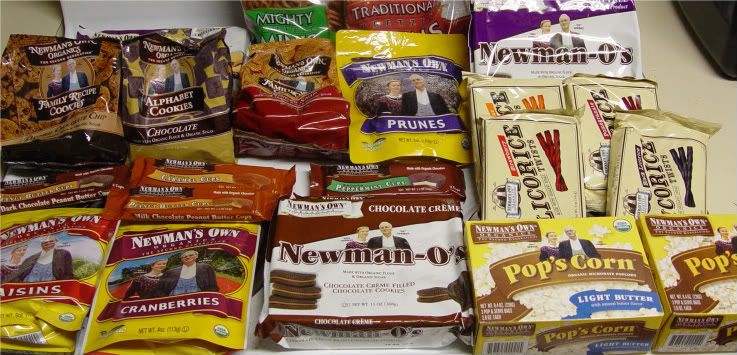 I received an amazing sampler pack of Newman's Own Organics.  I'd like to spend some time on each category of items so I can give the best review.  Some of the items I am still working on from receiving such a wonderful package!!
Dried Fruits
You can definitely taste the "fresh" organic taste of the Dried Raisins.  Store-bought raisins just cannot compare to the juicy raisins from Newman's Own Organics!  They had a delicious sweet taste that I really enjoyed!  I am picking a pack of these as a favorite for my giveaway!
Pop Corn
I really enjoyed the Light Butter popcorn.  I am more of a "cover it with butter" person myself, but the popcorn had a nice lightly salty and buttery taste.  For the bigger butter fans, I would suggest their Butter flavor that is also available.
Fig Newmans
These cookies were so delicious.  Usually, I do not eat fruit-filled cookies.  I absolutely loved these.  They did not have that over-processed taste.  The fruit tasted sweet and did not leave me feeling weighed down like some fruit cookies do.  Definitely a fan of Fig Newmans from now on!
Newman O's Cookies
These were a big hit in my house.  I received peanut butter filled, creme filled, chocolate filled, and lactose/wheat-free filled cookies.  I liked each of the cookies I tried.  I really liked the Peanut Butter flavor.  They have a better taste to them than the average cookie, and I would highly suggest them to cookie fans.
Licorice 
Let me start by telling you I am NOT a licorice fan.  I have never been able to eat a licorice of any flavor that I actually liked.  Being the foodie that I am, I had to try them no matter what! I got into the Tangerine flavor first.  I could NOT put them down.  They were my absolute favorite (and first official) licorice.  I also loved the Pomegranate flavor!!
Pretzels
Their pretzels were also a big hit.  We are a house of pretzel fiends.  I love the mini-pretzels because they were easy to eat in one bit, and had a nice salty pretzel flavor to them.  The Traditional pretzels were delicious as well!
Alphabet and Family Recipe Cookies
I loved the Oatmeal Chocolate Chip cookies.  They were absolutely delicious, and very sweet for an oatmeal cookie.  I like that they weren't over-powering with sweetness, they were just right.  I also enjoyed the Chocolate Alphabet cookies and Ginger Snaps.
Chocolate Cups
The chocolate cups were my absolute favorite out of the box.  I could not get enough of the Caramel, Mint, or peanut butter cups.  The caramel was smooth and silky, and the milk chocolate was absolutely delicious.  The mint and dark chocolate was a perfect combination, and the peanut butter was soft and just right.  There is not one complaint about these items from me or the entire family (which is another rare feat in this house).  I would highly suggest trying the Chocolate from Newman's Own Organics!!
Where to Purchase
You can check where a Newman's Own Organics Retailer is near you by using their Retailer Finder tool on their website.
Enter to Win
Newman's Own Organics is providing my wonderful readers with a delicious giveaway!  I am able to choose four of my favorite items to give away to YOU!  Thank You, Newman's Own Organics!
This contest is open to US only, and entrants must be 18 and older at time of entry.  By entering, you agree to the full set of terms & conditions as listed on JuneBugMom.com.
Enter via the Rafflecopter form below – good luck!
Related posts: